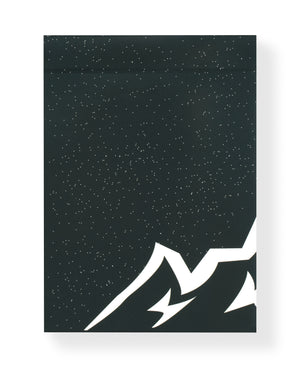 Ascension (Noun) 
1) Action of rising to an important position or a higher level.
2) The act of changing location in an upward direction.
3) Astronomy, the rising of a star above the horizon.
Representing the challenges that lie ahead of us on the road to greatness, Ascension's tuck case features a starry night sky, with a contrasting white mountain range. Court and number cards have been subtly recoloured but retain a traditional appearance and are accompanied by a custom Ace of Spades and identical Jokers.
Crafted for the art of card flourishing, Ascension playing cards aim to take your moves to new heights. Printed by The United States Playing Card Company on premium crushed stock with an embossed finish. It's not about being the best. It's about being better than you were yesterday.