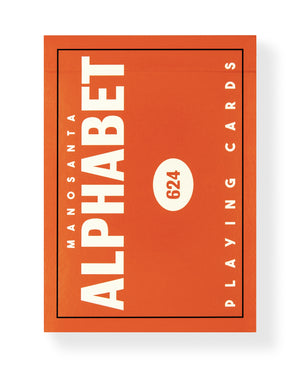 Alphabet playing cards are the second release from Mexico-based cardistry brand, Mano Santa.
Made up of fifty-six different word-search inspired designs; the crisp white lettering on Alphabet's card backs are contained only by an elegant black border and are set against a metallic blue background which feels more playful and unrestrained than Mano Santa's first release, 45s. 
Housed within a vintage inspired tuck case, face and spot cards are mostly standard but have been simplified, with any remaining details and borders being recoloured to match each card's suit. 
Printed on a crushed stock by The United States Playing Card Company.