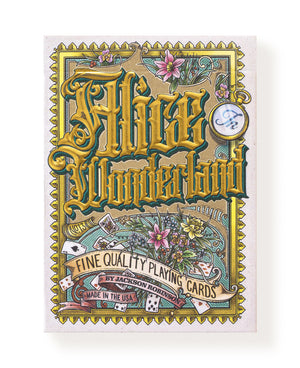 Journey down the Rabbit Hole and into Wonderland with Alice and the wildly unusual, whimsical characters of the beloved story, 'Alice in Wonderland'.
Meticulously illustrated in exquisite detail, each card features ornate borders and vibrant colours with appearances from your favourite fictional characters including the Mad Hatter as the King of Spades, the Cheshire Cat as the King of Diamonds and Tweedledee and Tweedledum as the Jack of Clubs! Alice can even be spotted on the two Jokers, tumbling down the rabbit hole to find what awaits her in Wonderland!
Printed by The United States Playing Card Company.