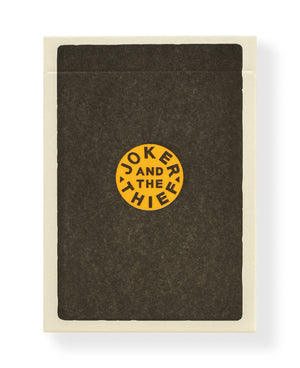 A new direction for luxury playing card company, Joker and the Thief, Five Ninety-Seven is their first deck designed specifically for cardistry. 

Crafted for the discerning cardist who prefers minimal design, 597 offers a stripped back and reserved aesthetic in comparison to previous Joker and the Thief releases but maintains distressed elements that are synonymous to the brand.
Inside a tuck box masterfully crafted from premium paper stock and sealed with a perforated sticker are vintage-style Arrco court cards and a set of original Joker and Thief Jokers which combine effortlessly with the Joker and the Thief insignia which rests squarely in the centre of the back design, providing an air of weight and presence.

Printed by The United States Playing Card Company on Premium Crushed Stock.