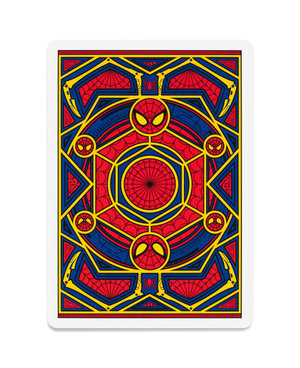 Since the debut of Spider-Man: Homecoming in 2017, Marvel Studios has captivated the hearts and minds of the newest generation of Spider-Man fans. Follow Peter Parker's journey through high school as he saves the world from some of the most feared villains!
Inspired by Marvel Studios' Spider-Man trilogy, the outer packaging of Spider-Man playing cards by theory11  will have your attention caught up in its web; with vibrant blue, read and gold foil perfectly capturing the essence of the Iron Spider Suit. 
Your favorite characters are brought to life, including iconic villains such as Green Goblin, Doctor Octopus, Vulture, Mysterio, and the deck even features appearances by two additional iconic Spider-Man actors!
Printed by The United States Playing Card Company on FSC-certified paper derived from sustainable forests using vegetable-based inks and starch-based laminates.
theory11 launched in 2007 with a team of 11 creators united by one purpose. To advance, inspire and create wonder.
Boasting the largest community of magic creators, with over 1,500 registered artists and hundreds of thousands of members around the world; theory11 have grown exponentially in the years following 2007 to become one of the largest luxury, designer playing card manufacturers in the world. With over 78 unique playing card designs under their belt, their goal is clear: to push the envelope and create the most breathtaking, innovative and elegant designs available.