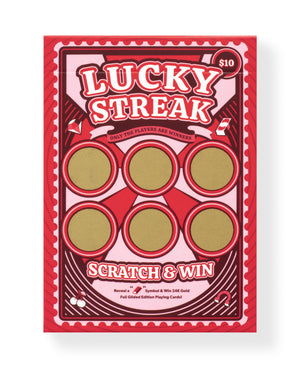 Only the players are winners.
Complete with scratch-able paper infused to the tuck case, Scratch & Win playing cards by Riffle Shuffle give you a 1 in 25 chance to win a limited edition gold foil, gilded deck of playing cards by revealing a 'Gold Bar' symbol! 

Designed to mimic the aftermath of instant-win scratch-cards, pips resemble scratch-able paper and provide glimpses of winning symbols and court cards are completely custom, representing characters that host lottery events!
The perfect deck to accompany games nights with friends and family!
Limited to 2,500 and printed by The United States Playing Card Company on premium Bee stock.