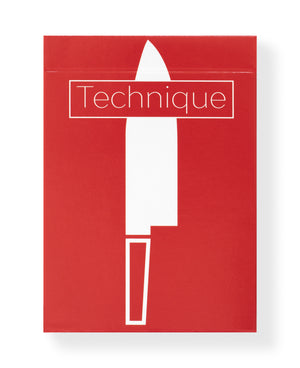 Technique: Signature Edition
With rotating borders of colour that mark the most common edge grips for packet cuts, Technique is the first and only deck of cards that has been designed specifically to help in the creation of moves and flourishes by using the back design. 
The third deck from Chris Severson and Technique, the Signature Series branches out into the community to collaborate with people who share a common love and passion for cardistry. Sean Oulashin is an American cardist specialising in creative camera and editing techniques and is first in the Signature Series. His viral cardistry videos have been viewed millions of times by people all over the world and have been featured on platforms such as People Are Awesome and climbed to the front page of Reddit.
Five months in the making, Sean's Signature Edition Technique playing cards feature his favorite colours, symbolism of chef knives and blood drops and even include tools to help you in your cardistry journey - such as a Grey/White/Black Card to help white balance your photos and videos and a list card to jot down new ideas!

Printed by The United States Playing Card Company.