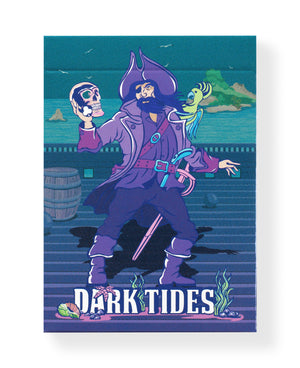 What began as a design for a t-shirt took on a life of its own and evolved into a full deck of playing cards! Designed with the help of r/Octopus and r/Pirates on Reddit, Dark Tides features a vibrant skull and his eight tentacled friend, Bert!
With unique and creative illustrations for Kings, Queens and Jacks and aquatic animals on each number card to make for easier game play, Dark Tides is a completely custom deck of cards crafted for the community by the community. 
Produced in loving memory of artist, Alexander Adams, who passed away from Covid-19 in the later design stages of this deck.
Printed by The United States Playing Card Company.