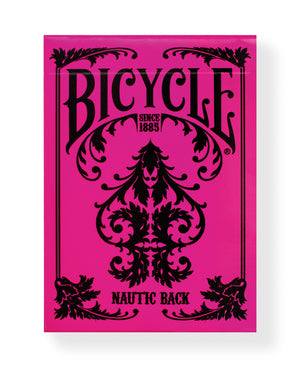 Built on the foundations of the white Nautic deck, this edition of Bicycle Nautic has been produced in a striking pink colour-way and features modernised artwork from the original, highly detailed, Nautic No. 55 released in 1919. 
Housed within a vibrant tuck case with a black sticker seal, the cards feature a perfectly mirrored two-way Nautic design which invites you into the mystical world of butterflies and swirling leaves that adorn the card backs.
The inclusion of a black and white and colourised 808 Joker, make this an ideal choice for those wanting to add a splash of colour to their card act or, if you're not in to card magic, take advantage of the accompanying Poker Guide to never mistake a hand and add a little excitement to your next poker night!
Printed by The United States Playing Card Company on Premium Stock with Air-Cushion Finish.  
You'll find that a lot of the decks showcased on our site are manufactured by The United States Playing Card Company and rightly so, they create some of the world's best playing cards! 
Bicycle® is a brand developed by USPCC, named after their first back design which features penny-farthings, and are used for everything from household games to the most exclusive tables in Vegas. Bicycle cards have paved a path to freedom for POW's in WWII and kept presidents entertained in the oval office! They've been handled by some of the world's most famous magicians, Blaine and Copperfield to name but two, and are treasured by families, collectors and cardists.
For over 130 years USPCC have been referred to as the 'First in Fun' for bringing people together in the name of a good game with great company. 
Get shuffling!