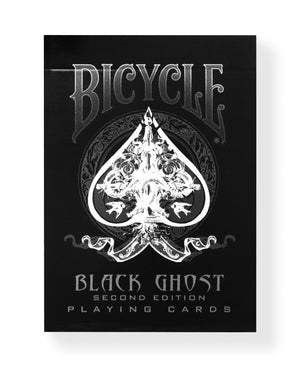 Bicycle Black Ghost: Second Edition
The original Bicycle Black Ghost deck did not enter the market except by private sale. It was used by ellusionist for special promotions and given as a gift to professionals such as Banachek, David Blaine, Garcia and others. As a result, the decks easily commanded up to $400 on eBay!
Now, after repeated requests for the Black Ghost (more than any product in ellusionist history), an improved Second Edition of the mega-hit deck has been released.
Complete with Jokers that contain a Jack of Spades reveal which can be used with a Shapeshifter or Erdnase change, Bicycle Black Ghost: Second Edition is printed on luxury card stock courtesy of The United States Playing Card Company to ensure beautiful fans and excellent longevity. 
Ellusionist was founded on January 1st, 2001 by Brad Christian with the goal of creating the best online training environment for people who want to learn high-impact, effective magic tricks.
Since then, Ellusionist growth has been unprecedented, boasting one of the largest magic forums on the internet with over 60,000 members.
Constantly pushing boundaries, in 2017 Ellusionist launched Magic Stream, an online subscription based streaming platform, giving its users the ability to view magic tutorials anywhere, on any device.
The power to perform magic beyond belief.