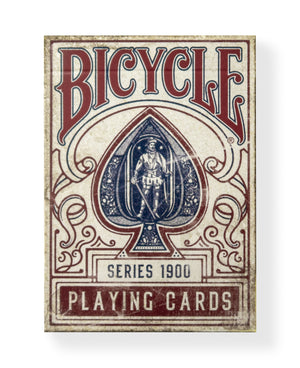 Imagine what a deck of cards would look like if it had survived for over a century... if it had seen two World Wars, the Titanic's maiden voyage and man's first steps on the moon. Weathered and abused, Bicycle 1900 by ellusionist is the result. 
Printed on an off-white card stock with distressed design elements, this deck is as much of an illusion as the acts you will perform with it. Whilst they may look like they have experienced every second of the past one hundred years, the cards handle exceptionally and are built for the modern cardician. 
Available in Red and Blue - grab a piece of history, today! 
Printed by The United States Playing Card Company on Crushed Stock. 
Ellusionist was founded on January 1st, 2001 by Brad Christian with the goal of creating the best online training environment for people who want to learn high-impact, effective magic tricks.
Since then, Ellusionist growth has been unprecedented, boasting one of the largest magic forums on the internet with over 60,000 members.
Constantly pushing boundaries, in 2017 Ellusionist launched Magic Stream, an online subscription based streaming platform, giving its users the ability to view magic tutorials anywhere, on any device.
The power to perform magic beyond belief.