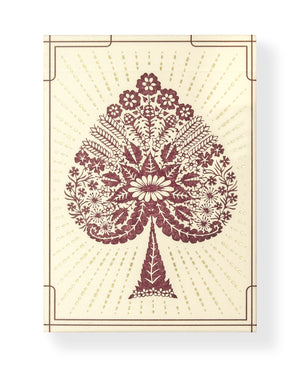 Crafted by hand, through the intricate art of paper cutting. The resulting artwork was scanned into a computer to produce Papercuts - a stunning deck of cards produced by Art of Play in collaboration with Suzy Taylor. 

Hunched over a magnifying glass, craft knife in hand, Suzy Taylor embodies the meaning of patience and precision. Beneath her tiny blade is a blank sheet of paper, but in her imagination, a dizzyingly complex design is waiting to reveal itself.
Oozing opulence, the tuck features a rosewood-coloured replica of the back design and an over-sized, embossed Ace of Spades surrounded by gold foil - all printed on a thick, matte paper stock.
Delicate spot cards are accompanied by intricate courts which are works of art in their own right. Each has been painstakingly designed to bear resemblance to traditional court card design - even the so-called 'Suicide King' is depicted through the medium of paper-cutting! 
Printed by The United States Playing Card Company on Art of Play's trademark thin stock. 
Twins brothers Dan and Dave Buck are perhaps best known for their contributions to the art of cardistry. 
Masters of sleight of hand, the Buck twins have released a plethora of instructional videos and DVDs which not only led to the increase in popularity of cardistry, but also made them two of the most influential people in the magic and cardistry community. 
In 2013, off the back of a becoming wildly successful producers of luxury playing cards, they founded Art of Play. Based in the United States, Art of Play curates a collection of wonderfully unique playing cards, puzzles, games and amusements.  
Epiphanies await the curious mind.