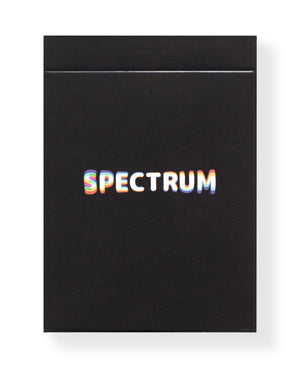 Created by Motoya Tanaka, Spectrum is the second version of the Mizutama series and is inspired by Tokyo at night.
Featuring 54 polka dots that radiate from the centre of each card back, Spectrum utilises the artist's colour wheel to create overlapping circles of colour ranging from red and blue to yellow and green. The resulting aesthetic is one that is reminiscent of bokeh but borders on an optical illusion, intensifying your card flourishes and enhancing visual effects.
Not limited to cardistry, Spectrum's face cards are customised to suit the theme of the deck, but remain easily recognisable and are accompanied by modified pip layouts on spot cards, making this deck equally well suited to card games or magic.
Limited to 1,000 and printed The United States Playing Card Company on crushed stock.