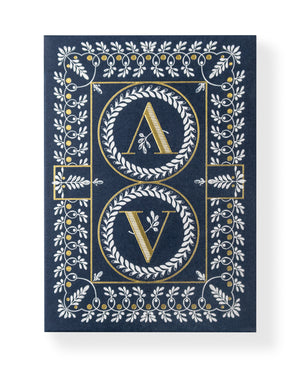 Inspired by the well-loved novels of Jane Austen, each suit within Jane Austen playing cards by Art of Play is rich in authentic, period detail and fully customised to represent one of Miss Austen's lead characters.

Housed within a letterpress-printed tuck box featuring gold foil accents and embossed scrollwork, illustrator John Eric Ligon has drawn inspiration from architecture, fashion, patterns and intricate needlework found in articles and images from fashion plates in Ackermann's Repository of Arts, originally published from 1809-1829, to create a timeless aesthetic that translates perfectly to playing card design. 
Printed by The United States Playing Company. 
Twins brothers Dan and Dave Buck are perhaps best known for their contributions to the art of cardistry. 
Masters of sleight of hand, the Buck twins have released a plethora of instructional videos and DVDs which not only led to the increase in popularity of cardistry, but also made them two of the most influential people in the magic and cardistry community. 
In 2013, off the back of a becoming wildly successful producers of luxury playing cards, they founded Art of Play. Based in the United States, Art of Play curates a collection of wonderfully unique playing cards, puzzles, games and amusements.  
Epiphanies await the curious mind.