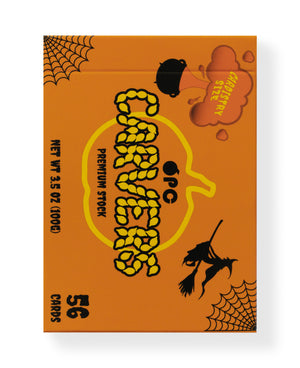 After much anticipation, we're finally welcoming Carvers V2 Pumpkin Halloween Edition to our store!

A highly requested deck from the community, Carvers V2 sports a fun, orange border which comes to life during packet cuts and fans. If you're a performer, your audience will love the court cards - Kings are skeletons, Queens are witches and Jacks are Jack-o'-lanterns - which have been tastefully customised to add drama whilst maintaining recognisability. 
Limited to 5,000 and printed by The United States Playing Card Company on Premium Crushed Stock. Each deck comes in a sealed candy wrapper with a sticker inside!