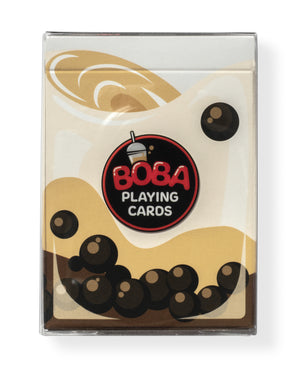 Bubble tea, also known as 'Boba', has been around since the 1980s, originating from Taiwan. Its popularity has grown exponentially over the past decade and it is now an internationally beloved drink.

Produced by BaoBao Restaurant, Boba playing cards are completely custom and celebrate the unification of Asian cultures with their innovative (and by no means 'subtle Asian' design language) You can now take your beloved Boba anywhere with you! 
Printed by The United States Playing Card Company on Crushed Stock with Air-Cushion Finish. Each deck is packaged in its own clear protective case on top of the tuck box and includes a double backer and a duplicate 4 of Hearts for magicians.