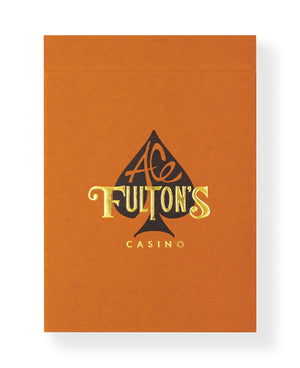 Ace Fulton's Casino: Vintage Back Orange
Introducing the original design of the highly collectible Ace Fulton's Casino playing cards. Never before has this version seen print and, after seven years and eleven editions, D&D Playing Card Co. have decided to finally release what they're calling Vintage Backs. 
Combining retro styling with a modern stock and finish, Orange Vintage Backs are available in very limited quantities and arrive housed inside a premium letterpress-printed tuck box, with Arrco-style court cards and an elegant Ace of Spades.
Limited to 2,448 and printed by The United States Playing Card Company, all decks arrived with an alternate colour double backer and are produced on Dan & Dave's trademark thin stock, preferred by cardists.