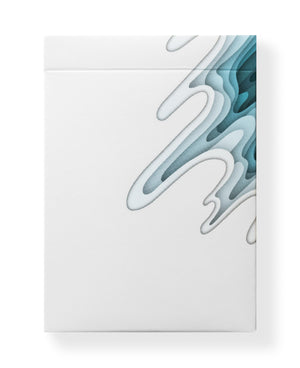 After a long wait, Sirius B has finally returned from its orbit in the universe. This time, in a frosty new colour-way!
Inspired by the various rays travelling throughout the universe, the back design of Sirius B V3 retains the original wavy look and various ray designs from the first and second edition decks, featuring layers of colour ranging from midnight to glacier blue that take you on a journey through the universe. 
Complete with face and spot cards that adopt a similar aesthetic to the card backs, each deck also arrives in Mnemonica stack and includes the 7 of Hearts face up in the middle of the pack, in preparation for an impromptu invisible deck routine. 
The tuck case utilises a wrap-around design which, when three decks are placed together in a specific way, forms a cool display! 
Produced by Riffle Shuffle and printed by The United States Playing Card Company on Premium Bee Stock with Air Cushion Finish.