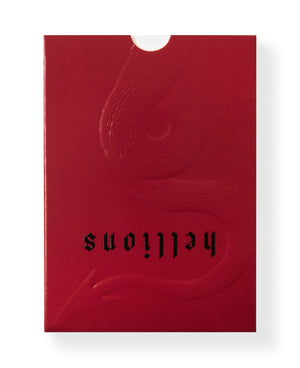 Entombed within a blood-red embossed tuck case, Hellions V4 by ellusionist were inspired by David Blaine's Gatorback playing cards but designed from the ground up by the supremely talented Oban Jones to be more evil in character.
Hellions feature an intricate back design made up of devils, gothic typefaces and other satanic symbolism which complement the plethora of sinister surprises hidden within this deck of cards.
Printed by Cartamundi.
Ellusionist was founded on January 1st, 2001 by Brad Christian with the goal of creating the best online training environment for people who want to learn high-impact, effective magic tricks.
Since then, Ellusionist growth has been unprecedented, boasting one of the largest magic forums on the internet with over 60,000 members.
Constantly pushing boundaries, in 2017 Ellusionist launched Magic Stream, an online subscription based streaming platform, giving its users the ability to view magic tutorials anywhere, on any device.
The power to perform magic beyond belief.