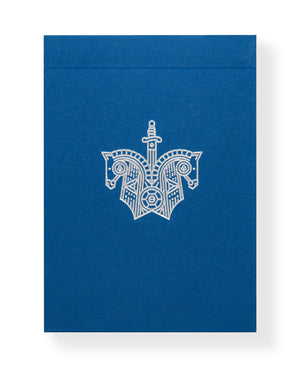 Knight (Chess Piece) 
The knight is unusual amongst chess pieces. It moves to a square that is two squares away horizontally and one square vertically. The Knight is not bound by its surroundings; it can leap over opponents making it the most devastating and unpredictable piece on the chess board.
Designed for magicians, gamblers and chess players alike, Blue Knights are third in the Knights family of playing cards and feature a luxurious matte-paper tuck case laced in silver foil externally and internally. This is a deck that exudes luxury before your even handle the cards!
The back design includes an array of chess pieces but is also marked for both suit and value, making this deck as devastating as the chess piece itself! 
Printed by Cartamundi in Belgium using their famed True Linen B9 Finish.
Your move.
Ellusionist was founded on January 1st, 2001 by Brad Christian with the goal of creating the best online training environment for people who want to learn high-impact, effective magic tricks.
Since then, Ellusionist growth has been unprecedented, boasting one of the largest magic forums on the internet with over 60,000 members.
Constantly pushing boundaries, in 2017 Ellusionist launched Magic Stream, an online subscription based streaming platform, giving its users the ability to view magic tutorials anywhere, on any device.
The power to perform magic beyond belief.