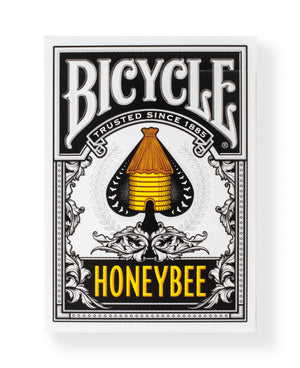 Available in Black and Yellow, Bicycle Honeybee (AKA Honeybee V3) playing cards, designed by Randy Butterfield, are a nod to traditional Bee-style design but, instead of a diamond pattern, feature beautiful honeycomb card backs complete with two realistic bees!  
Spot cards are traditional Bee-style with a custom Ace of Spades, Beekeeper Jokers and use a deep red colour-way for Hearts and Diamonds suits. Court cards are also standard in appearance but feature a custom colour scheme and background pattern! 
The cards handle superbly and, thanks to a traditional cut and USPCC's Grade-A "Magic" Finish, fan with ease and make tabled faro shuffles and other gambling sleights effortless. Included with each deck is a double backer and blank face card for magic routines!
Printed by The United States Playing Card Company on embossed Bee stock.